How do you like my new shelves ?
The two above the washer/sink ... The ones beside the washer have been there a while. We had some scrap timber in the garage that we decided would be good for shelving. I was going to paint it with some white paint we had in the garage too but it wasn't the right paint or something and the shelves just sucked it in ! I put like 5 coats on each shelf and it looked TERRIBLE ! Then I got the idea to cover it with material. I was going to go buy some but decided to look in my box of material first (I don't have lots but I couldn't remember what was in there!). I'm so glad I did, because I came across this material that I had brought home from my Grandma's place last year. It was JUST the right amount !! and I just love it ...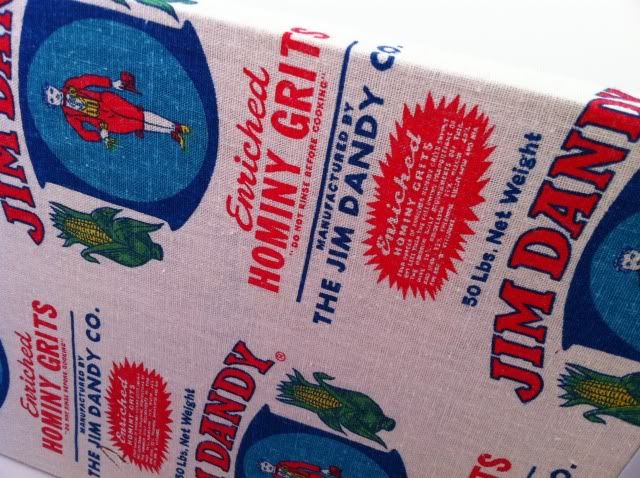 Armed with a staple gun borrowed from our next door neighbor, a glass of wine, a bit of help from the men folk, and the encouragement of friends who we were having a beer with, I set to work. It was super easy. Like wrapping a present, only with material instead of paper and a staple gun instead of sticky tape. I put the 'seam' at the back that would be against the wall ...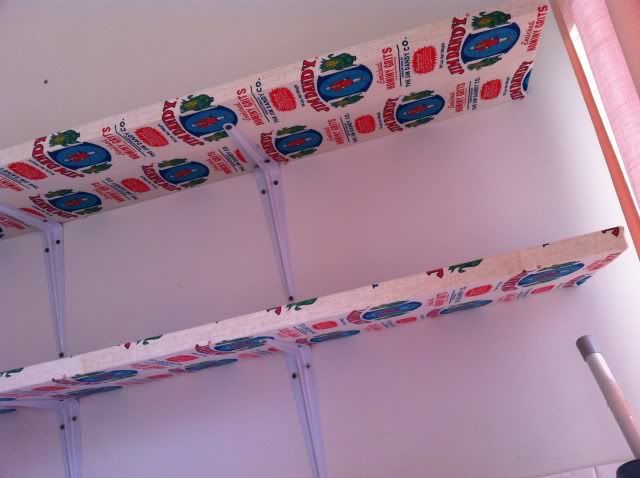 Rory got some brackets from the hardware store (our only expense with this little project) and then hung them for me the other day. I'm super excited ! I got straight in there and reorganized the linen closet that has been too full and waiting for these shelves to give it a bit of breathing room !! Want to see the results ?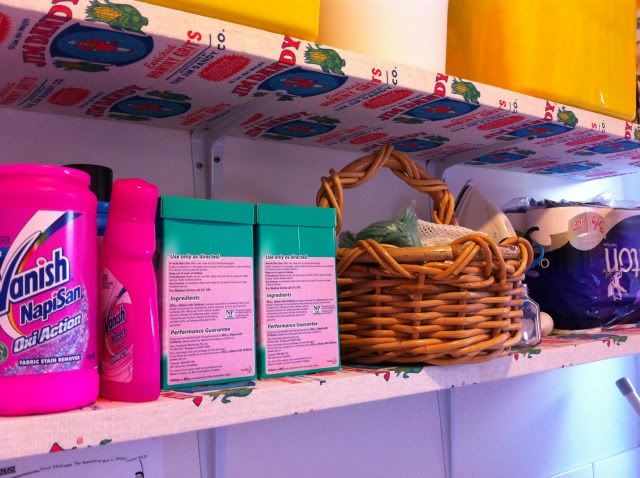 I wish I had taken some before pictures but I didn't. You can just picture a linen closet that was crammed full of stuff that didn't fit properly. With the addition of these shelves I was able to move the laundry detergents etc from the old shelves and make that fully house towels now. I was able to get the spare toilet paper off the floor in my bathroom ! And the spare tissue boxes now have a home ! The yellow boxes house medicines/extra toiletries and they used to live in the linen closet. So glad to be able to get them out of there ! Oh, and the little laundry garbage can that somehow always gets knocked over but never picked back up ... TOP SHELF !!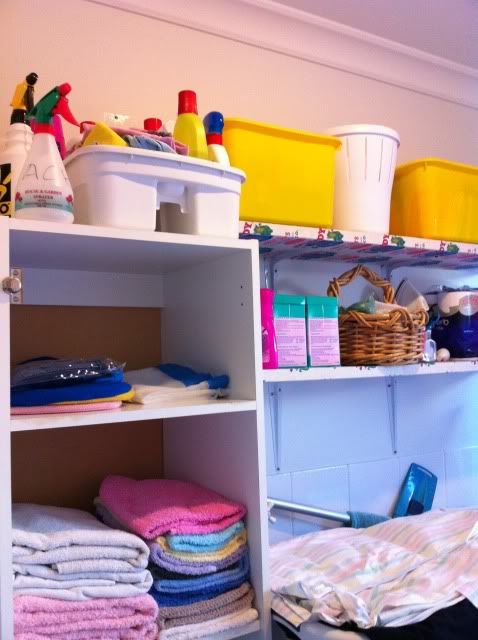 My cleaning supplies haven't moved. I like them way up high like that ... Hot water bottles and heating packs are on the next shelf down.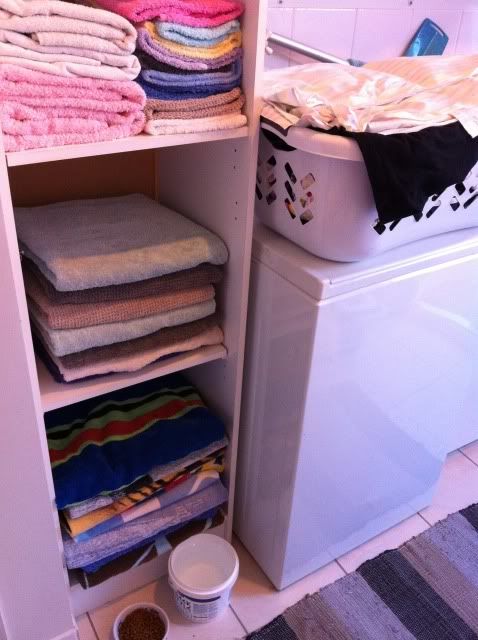 Hand and hair towels (yes, the girls in this house use a 2nd towel for our hair !) on the 2nd shelf. Bath towels on the third shelf. Beach towels on the bottom shelf. So easy to access and keep neat this way !

The actual linen closet is now able to organized. I love that I'm able to have a shelf for queen sheets and pillow cases and one for single sheets and pillow cases ! Makes everything so much easier to find !! Especially for the children.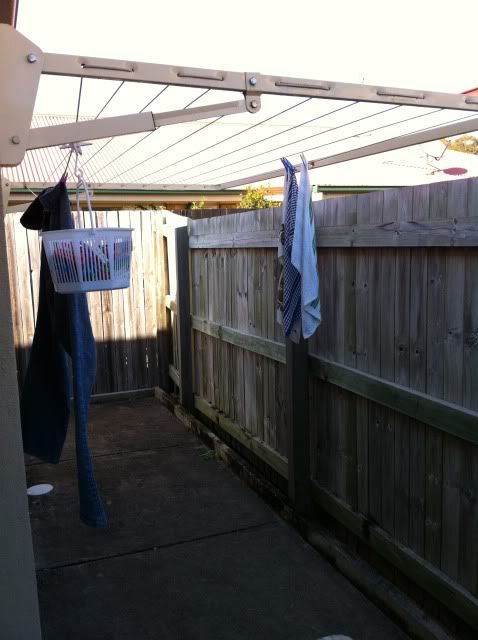 Here's the outside ... not that it was reorganized, but while I'm giving you the tour .... :)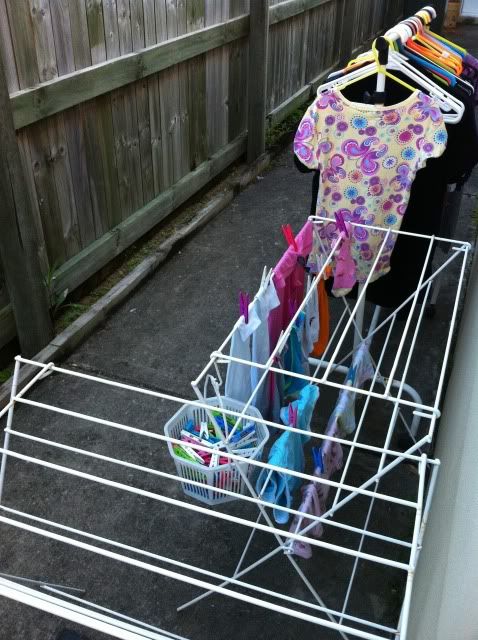 Alia was a little confused the first morning after the new shelves were put in. She feeds the cat but she couldn't find the food. It used to live on one of the towel shelves. Now it lives under the sink ... all the cat stuff together. Perfect !
Beaky thought she might pose for a photo of her eating, seein' as I had the camera out 'n all !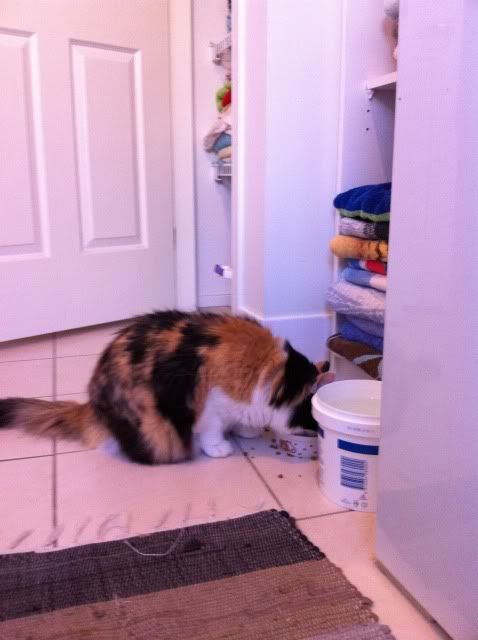 This is the first house where we've had an actual laundry room. I love it !
Even more now ....