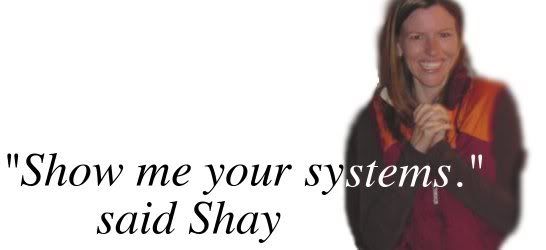 I think that often times, in blog land, we get a skewed idea of people and their lives. You may look at all of my organizing posts and think that my house is always spotless. Today, I'm going to dispel that myth !
I don't think it is realistic for a home, especially a home with children, to be spotless 24/7. Life, for me is about much more than a spotless home. I don't have the time, nor the inclination to clean any more than necessary. Maybe that is one of my motivations for being so organized.
Even so ...this is what my house
often
looks like at the end of the week. I did not pick up anything. I did not move anything. I did not put anything away before making this. I just got the camera on Saturday morning and went around and made this video. You may notice too that I didn't get out of my pajamas ... didn't even brush my hair !
This is as authentic as it gets, people !
Please excuse the irritating way I am speaking. How many times can one person say "right ..." ? I don't do that in real life. Not that I know of. I didn't even notice that I was doing it. Rory pointed it out when I showed him the video !
And for some reason, on this video, I have a lisp. Wild !!